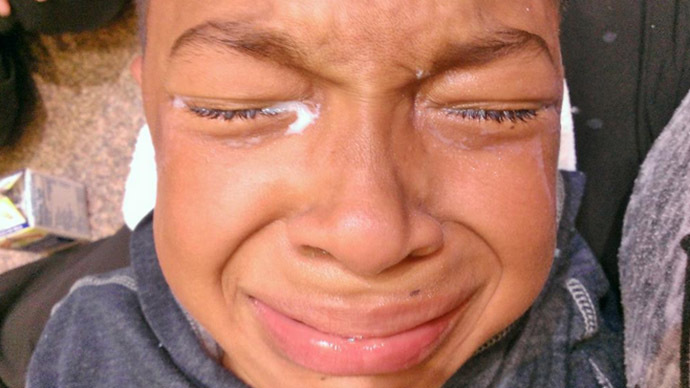 10-yr-old child among victims of terrorist chemical attack in Minneapolis
Podcast: Play in new window | Download (4.5MB) | Embed
Subscribe: Google Podcasts | iHeartRadio | Stitcher | Email | TuneIn | RSS | More
[jwplayer mediaid="12209″]
By Scotty Reid
According to reports, 10 yr-old Dyvonte Clinton was among group of people who suffered a chemical attack while participating in a peaceful public demonstration in downtown Minneapolis. The latest round of protest come after Dane County District Attorney Ismael Ozanne decided to not press any charges against Matt Kenny.
Youth all over the city have been staging protests since the killing of 19 yr-old Tony Robinson by Madison police officer Matt Kenny. Tony Robinson reportedly and allegedly was high on "mushrooms" and having a bad trip when someone made the fatal mistake of calling the police to come in and calm the teen.
Video posted to social media by Idris Nero Mahdi shows protesters peacefully marching down the street chanting "Fuck the Police" and beating what sounds like drum sticks. Suddenly a child starts screaming from a unprovoked chemical attack by a yet to be found terrorist. The child can then be seen lying on the ground in obvious pain surrounded by people trying to help him. The cameraman runs down the street with other protesters demanding to know why the child attacked. A uniformed officer identified Raymond Witzman is then seen spraying a thick orange or brown chemical at teen protesters angered over the assault on 10 yr-old Dyvonte Clinton.
Minneapolis Police Chief Janee Harteau and other city officials proclaimed there would be a full investigation into who launched a chemical attack on Dyvonte Clinton and others protesters. Chief Harteau asked for the public's help to identify one of her own and to come forward with any video. I seriously doubt anymore video will be forthcoming and I highly doubt if the cop will turn himself in like the parents of Baltimore teen Allen Bullock talked him into doing and don't hold your breath waiting for the boys in blue to snitch on a fella paddy roller.