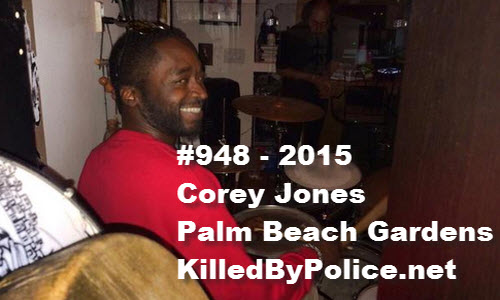 #948 Corey Jones, Killed by a Palm Beach Gardens cop waiting for a tow truck in Florida
Casualties of police violence continue across USA Inc and Corey Jones became the 948th entry into the citizen kept database of KilledByPolice on October 18, 2015. Since that date, at least four more people have been killed by police in 2015 bringing the unofficial tally to 951 which includes an un-named 40 yr-old male who was killed by Los Angeles County Sheriff deputies.
Corey Jones had car trouble on Sunday in Palm Beach Gardens on Oct 18, 2015 on Sunday afternoon. His brother had talked to Mr. Jones who told him he was waiting for a tow truck after his car broke down on a I-95 southbound exit ram. That would be the last time Mr. Jones spoke to anyone other than the plains clothes Palm Beach Gardens police who shot and killed him. Plainclothes cop Nouman Raja was driving an unmarked police vehicle when apparently contacting Mr. Jones according to reports.
The plainclothes cop said he stopped to investigate an abandoned vehicle and that is all that the public knows at this point two days into the investigation. Then he claims without provacation Mr. Jones came at him with a "weapon". It is not known if any dash cam video exists.
Mr. Jones's family and friends are very suspicious about the ongoing investigation as little information was shared with them since Jone's killing causing transparency question to arise among them.
---