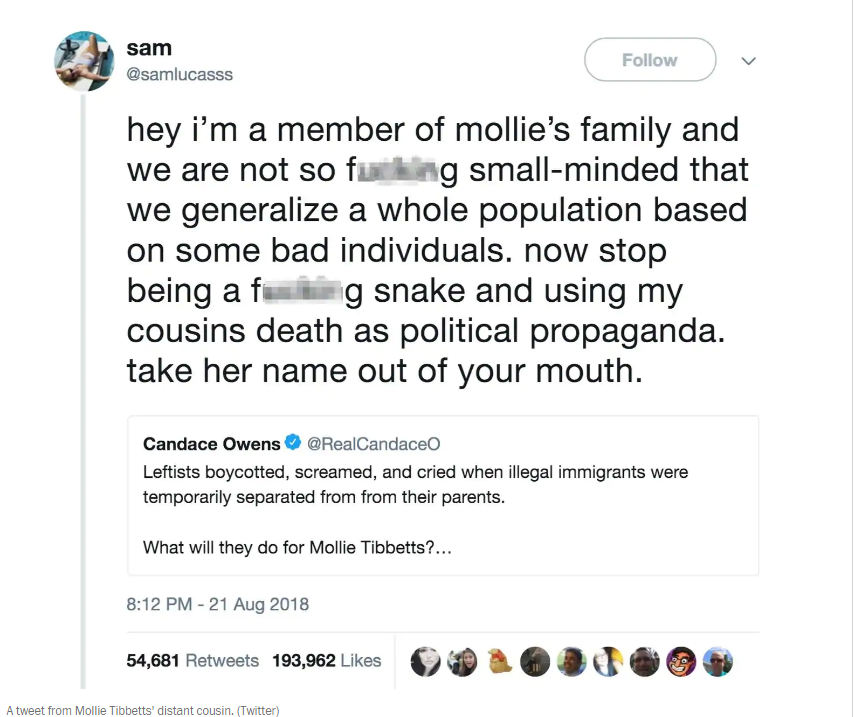 Mollie Tibbetts' Father Calls Out Conservative Rhetoric Pushed By Those Like Candace Owens & Donald Trump
Mollie Tibbetts' father broke his silence about the death of his 20-year-old daughter with a message to politicians and political talking heads from tv and social media to stop using Mollie's death as a part of the US immigration debate. US President Donald Trump and other proponents of his scheme to wall off the southern border have used the murders and tragic deaths of US citizens involving undocumented persons to advance a harsh immigration agenda.
Mollie Tibbits was killed by an illegal immigrant. There will be ZERO outrage from Democrats and the spineless celebrities who march to their orders because they need open borders for votes.

How many more AMERICAN lives is the left willing to sacrifice for elections?

— Candace Owens (@RealCandaceO) August 21, 2018
Different relatives have spoken out via social media indignant that the young woman's image and likeness are being used to promote racism and xenophobia. A reported cousin of Mollie Tibbets was so upset that they used expletives to chastise political commentator Candace Owens who works as a right-wing media propagandist for Turning Point USA and a favorite of Trumpeters.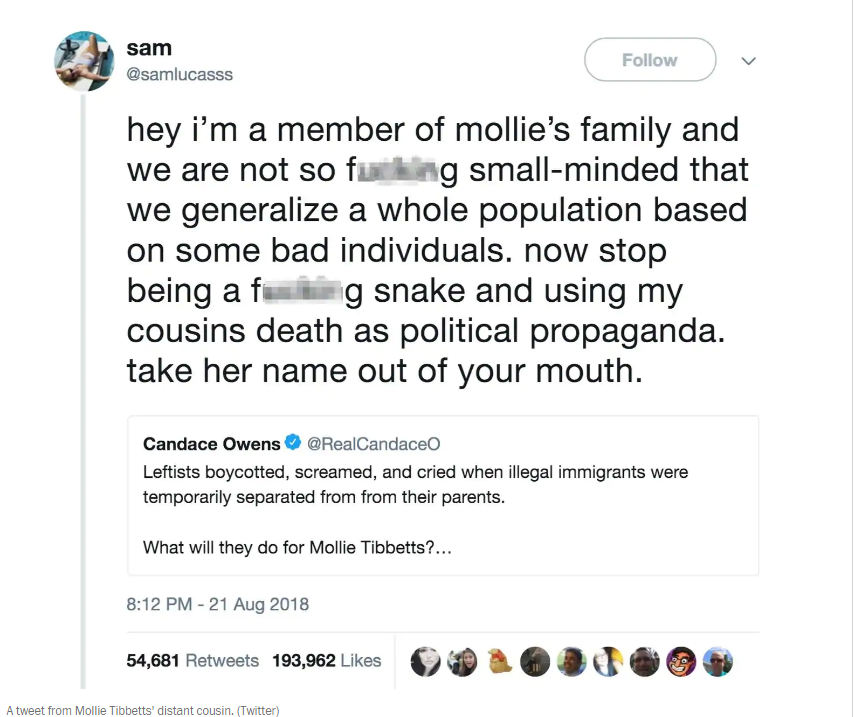 Republicans have used Mollie Tibbetts's murder as a dehumanizing hammer to pound on foreign nationals whose human rights are being violated daily by the executive branches of the US government with a fully onboard Republican Party.
The Civil Rights Act of 1964 is a landmark civil rights and US labor law in the United States that outlaws discrimination based on race, color, religion, sex, or national origin.
US Attorney General Jeff Sessions supports Trumps "zero tolerance" immigration policy and is openly and seemingly engaged in implementing a federal immigration policy that is in direct violation of federal anti-discrimination laws passed during the era of the Dr. King led civil rights movement. Discrimination based on race and national origin are outlawed by the 64 Civil Rights Act.
---