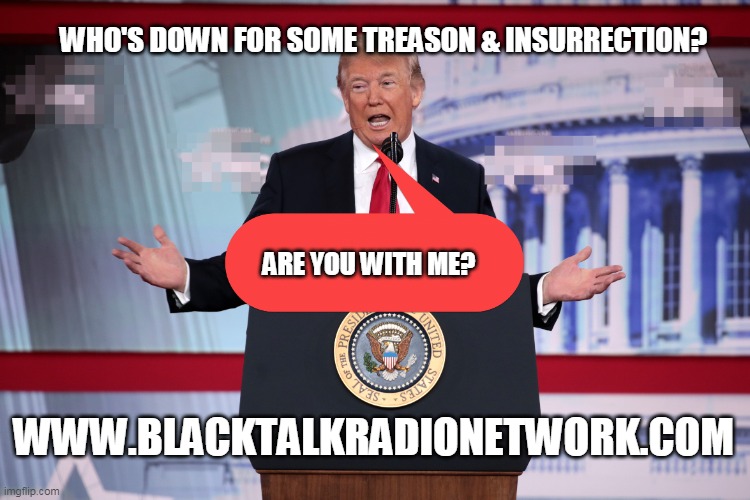 BTR News w/ Scotty Reid: Trump's Treason Shows Serious Flaws In The U.S. Constitution
Podcast: Play in new window | Download (Duration: 1:24:06 — 38.6MB) | Embed
Subscribe: Google Podcasts | Stitcher | Email | TuneIn | RSS | More
BTR News On The Black Talk Radio Network! Today's Date is January 4, 2021, and we invite you to tune in for the next 60 minutes or more of news, information, debate, and your calls.
---
Donald Trump is wreaking havoc on the U.S. political system and the so-called U.S Justice system as he continues to exploit the United States' tendency to not prosecute people elected Presidents for the crimes they have committed. The Donald Trump Conspiracy Tour continues as the POTUS was recorded on a phone call trying once again to get another elected Republican official in a state he has lost to participate in election rigging, a federal crime, and that is why these calls are being leaked.
US citizens and supporters of both sides of the political aisle, Democrat vs. Republican, engage in collective partisan denialism when it comes to their man or woman commits a crime and seemingly unable to debate the merits of the evidence objectively like a juror should who has been given that heavy responsibility to be impartial in the face of facts.
[the_ad id="52254″]
The Senate runoff races start tomorrow in Georgia and incumbent Senator David Purdue seems to be part of Trump's conspiracy to disenfranchise voters who voted him out of office in 2020 in order to stay in office. Perdue was on Fox News pushing Trump's debunked talking points about election fraud they have yet to present any evidence of in the US federal courts. The two US Senate races in Georgia could swing the balance of power in the US. Senate.
If there was any real justice in the United States, Trump should expect to be indicted on a bevy of federal charges right along with his co-conspirators by whoever is the next US Attorney General but the problem is, there isn't any true justice for all when POTUS-elect Biden has already signaled that he isn't interested in seeing Donald J. Trump prosecuted for any crime, he wants to "heal the soul of America" and gives other unacceptable reasons for why he is continuing the tradition of the political elite making a mockery of the rule of law while at the same time incarcerating millions of people for lesser so-called crimes than those Trump and his insurrectionist minions are committing right before our eyes in real-time.
What Else Is On My Radar?
'Race offenders register' would see racist people banned from certain jobs. read more
This news and more tonight on BTR News w/ Scotty Reid! Support Indy News Media!