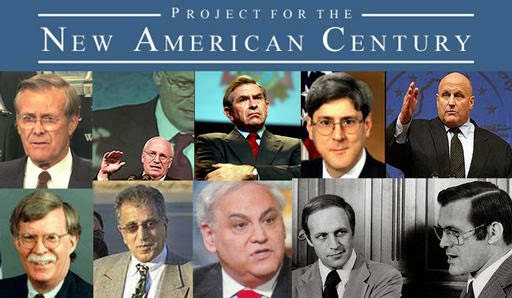 BTR News: PNAC Long Term Policies At Work In Venezuela And Why It Matters
Podcast: Play in new window | Download (Duration: 2:02:56 — 56.4MB) | Embed
Subscribe: Google Podcasts | Stitcher | Email | TuneIn | RSS | More
While some independent outlets and Youtubers have mentioned the Project for the New American Century, a neo-con think tank with a plan for US global domination that was at the height of their power during the Bush Administration, there has been no mention of PNAC in the corporate cable news outlets as Donald Trump appoints yet another PNAC member to his administration with little opposition from establishment Democrats. Just as oil was at the center of the overthrow of Saddam Hussien, so it is with the coup attempts in Venezuela one of the world's largest oil producers. Tune in as we unpack the history of PNAC and its policy paper Rebuilding America's Defenses and how it is in play in the US governments actions around the world.
Sources:
PNAC: https://www.sourcewatch.org/index.php/Project_for_the_New_American_Century
P.N.A.C: The Plan To Destabilize The Middle-East – https://www.youtube.com/watch?v=MqTq8QL86TY
PNAC's policy document, "Rebuilding America's Defences": http://www.antiwar.com/orig/stockbauer1.html
PDF of the document: http://www.informationclearinghouse.info/pdf/RebuildingAmericasDefenses.pdf
US special envoy for Venezuela has long, controversial history in Latin America: https://www.cnn.com/2019/01/26/americas/elliott-abrams-venezuela-special-envoy-career/index.html
---
Scotty Reid is the founder of the non-profit media organization Black Talk Media Project which has been around for over 10 years. He is the host and producer of the BTR News podcast and New Abolitionists Radio which he has co-hosted for several years. He is a free-thinking Christian prison slavery abolitionist who can't be put in a box politically, socially or otherwise. He is the father of three and a US Army Veteran of the Gulf War. He has been producing news talk programming since 2007 and has interviewed hundreds of guests on various topics over the years. His favorite movie line is from Forrest Gump, "Are you stupid or something?". Check out the podcast archives here and here.
You Can Support BTR News & Black Talk Radio Network Today By Making A Financial Contribution To The Non-Profit Black Talk Media Project. Thank You For Your Contribution In Support Of Independent Media Click Here To Donate!
Checks or M/Os made out to Black Talk Media Project, PO Box 65, Mt. Holly, NC 28120-0065