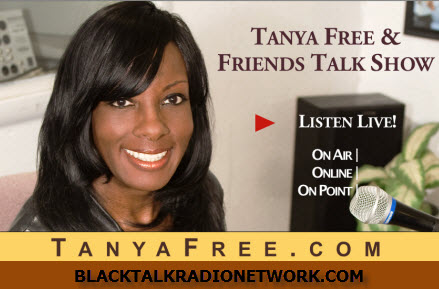 WEDNESDAYS – 2:00 PM EST
STUDIO LINE: (804) 321-1010

Tanya Free – Facebook – Twitter
This week's topics include:
President Obama authorized "targeted" air strikes last Thursday to protect American interests in Iraq from insurgent forces that are taking over the country's northern cities.
Unarmed 18 Year Old Michael Brown was killed by an unnamed Ferguson Missouri Police Officer. Monday was supposed to be Michael Brown's first day at technical college. Instead, his parents were planning his funeral.
The "Choking Game" and  "Fire Challenge" have sparked a social media craze with teenagers posting photos and videos of people choking themselves for a brief high that causes people to pass out – or pouring  alcohol on themselves  and setting themselves on fire in the shower. Our Friend Latisha McDougal,Social Media Consultant and Owner and Producer at May We Help You Radio Network joins the conversation to discuss these new social media challenges.
Tanya is the Executive Producer and Host of the "Tanya Free and Friends Talk Show," a platform for social and political straight talk originating from WCLM1450AM in Central Virginia and simulcast on the Charlotte, NC based Black Talk Radio Network based and online at TanyaFree .com .Her nationally syndicated "Question of the Week" can be heard weekly on Sirius/XM Satellite Radio and The Big John Trimble American Music Network. For Archives check out http://TanyaFree.com
 Sponsorship opportunities available. Call Tanya at 804-321-1010 for more information.